2023 BC&G Photo Calendar

Click the image to download the PDF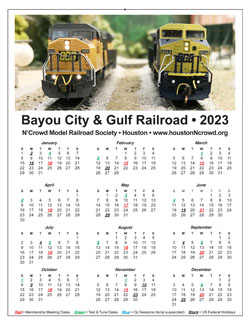 Click on "Photos & Other Fun Stuff"
for previous years' photo calendars.

The N'Crowd Model Railroad Society, aka Houston N'Crowd, was formed in 1978 to promote a then-new modular model railroading concept called N-Trak. We were the first N-Trak group to organize in southeast Texas.
The N'Crowd sponsored the 1st N-Scale National Convention in Houston in 1983, where the photo below of Loren Neufeld's Houston Union Station model was taken. The model is now located on the Bayou City & Gulf Railroad, our club layout. We also sponsored the 10th Anniversary N-Scale National Convention in Houston in 1993, and followed up with the 20th Anniversary N-Scale Convention in Houston in June 2003.
We invite you to join our organization! For more about us, use the links above.
While we are no longer a modular group - our focus now is our permanent layout - some of our members are involved with N-Trak, T-TRAK and FreeMoN modular groups, and in 2019 we launched a T-TRAK Division. For information about N-scale modular railroading, click on the NRail logo below.

N'Crowd Model Railroad Society, Inc. is a 501(c)(3) nonprofit educational organization incorporated in the State of Texas. N'Crowd members strive to learn and educate the public about contemporary and historical railroading through scale model railroads, demonstrations, tours of museums and historic sites and similar activities. Donations to the N'Crowd may be tax-duductible.