April/May/June 2013

Work continues on the Bayou City & Gulf at Papa Ben's Train Place!
Visit us at 4007-E Bellaire Blvd., Houston.
The layout room is open most Saturdays from 11 a.m. to 2 p.m.
Operating sessions take place monthly - join the fun!

For some reason, we have a shortage of pictures taken in the second quarter of 2013.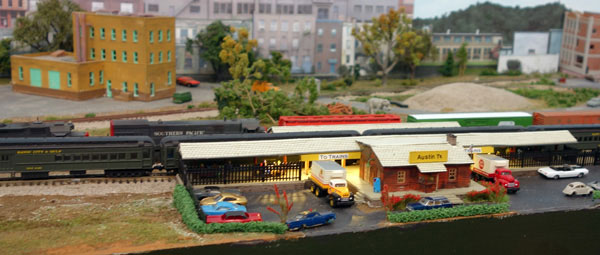 Above, the platform lights are on at the new BC&G Austin station.
Richard Bartlett has added lights to several BC&G structures.

Below, Ted Davis and Dejan Suskavcevic took an opportunity one Wednesday evening to make the trek from Papa Ben's to the Amtrak station with Tom Marsh to see the arrival of Train No. 1, the Sunset Limited. On this day, the locomotive has snagged a tree branch somewhere during its journey between New Orleans and Houston.